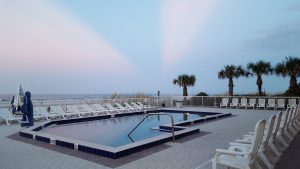 If you are searching the internet for that special family-friendly spot in Florida…YOU'VE FOUND IT! The Atlantic Plaza is a unique 22 unit family-oriented vacation condominium offering daily and weekly rentals year round and monthly rates in the Off-Season and Winter Season. We are within walking distance of Flagler Avenue, the epicenter of the Beach side, which has restaurants, bars, surf shops and quaint boutiques.
WE ARE GETTING A NEW ROOF!
We will be closed to guests from August 5th – August 27th.
But…the office will be open 9am -2pm Monday thru Saturday.
During that time crews will be tearing off,
inspecting and re-roofing our building.
We are also re-surfacing our pool while we are closed
and will re-open in time for Labor Day and our Fall guests.
While we know closing is inconvenient for our guests,
the Atlantic Plaza Owners are committed to Preventative Maintenance.
Our roof system is over 15 years old and has gone through 6+ hurricanes and multiple tropical storms.
Core samples show that it is time for replacement.
Waiting for leaks only causes further damage with water intrusion issues.
Email or call our office!
386-427-4636