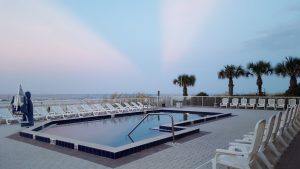 *FLASH*
CORONAVIRUS UPDATE FOR NSB and FLORIDA
As per the latest news, which seems to change hourly, here is the State of the Atlantic Plaza: 
We are open…but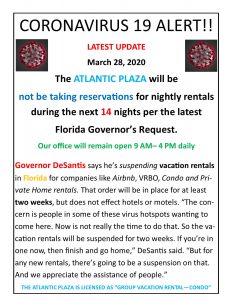 CLICK IMAGE TO ENLARGE
NSB restaurants IF open are take-out only!
All Bars are closed per State mandate!
NO BEACH DRIVING!
The Beach is open…but groups limited to 10 people or less.
STAY TUNED FOR THE LATEST!
We at the Atlantic Plaza are inspected and have to adhere to the cleanliness standards required to maintain our licenses. We have always strived to maintain these standards to ensure our guests' and staff 's health and  safety. We take this potential health hazard very seriously. 
So…If you are going to be restricted from group activities and such, why not stay here and have the ocean breezes and soft wave noise soothe the World's issues away. NSB restaurants are also working hard for the safety of our guests. But just an FYI…all of our units have a full size kitchen, so if you do not want to go out to one of our areas fine restaurants …you can stay in the unit and cook. Heated pool…air conditioned units…closest place to the beach…and the best staff ever! We think we may have a place to find…
Sunshine

  – 

Fresh Air

  – 

Ocean Ions
No matter what stress the World brings, NOTHING cures the soul and body like a BEACH GET-A-WAY at the

Atlantic Plaza

!
*OFFICE HOURS ARE DAILY 9 AM- 4 PM
SPECIAL HOURS EASTER, THANKSGIVING & CHRISTMAS DAY
OFFICE PHONE: 386-427-4636
Atlantic Plaza
425 South Atlantic Avenue
New Smyrna Beach, FL 32169
WHAT PEOPLE SAY ABOUT THE ATLANTIC PLAZA:
TRIPADVISOR REVIEWS
ooooo      Love Atlantic Plaza!
"Love staying here! Ed and Donna are wonderful as is the rest of the staff—very friendly and helpful! Place is very well kept and lots of places conveniently located within walking distance. It's great when it's the two of us or when we bring our three grandkids along. Love it!"
Date of stay: October 2019
Trip type:  Traveled as a couple
ooooo      Excellent Place to visit on the Beach
"It was a wonderful experience. I will continue to return for many more years. The staff is willing to meet our every need and makes us feel welcomed each year. Safety and cleanliness are essentials."
Date of stay: September 2019
Trip Type:  Vacationing.
ooooo      Wonderful place to stay!
"We have been staying here for almost 10 years now. This is a family friendly place, No loud music, private pool. The management and staff keep an eye on the pool, parking lot, hall, etc. with security cameras… Very safe!  We have added more family and friends each year we are up to 10 units in our group! The staff and management are wonderful and go the extra mile!"
Date of stay: June 2019
Trip type: Traveled with family
G

o

o

g

l

e

 REVIEWS
RATING:   4.9                     29 reviews
*****   "This is a great place to come and enjoy the beach and beach community.  Units fully furnished and decorated. They are exceptionally well maintained and clean.  We have stayed here several times and enjoyed each visit.  Can't wait to go back."
*****   "This place is amazing. The office team the best. The rooms are very clean and the view is unreal. Close to the shops and best food around."
*****   "My family has been staying in Atlantic Plaza since it was built. And we keep coming back, Ed, Donna and Sue are like part of the family. The staff and owners have done great job keeping things fresh and updated!!! New Smyrna is our favorite vacation spot!!!"
ADA Compliance Statement
The

Atlantic Plaza

is working towards compliance with all ADA web standards and will be publishing updates to the website within the next months. To this end, we are dedicated to constantly apply upgrades that adhere closely to modern web standards and national accessibility guidelines.

Please bear with us as we make the changes. 
     Remember, the BEST way for ANY assistance is to:
Email or call our office!
386-427-4636